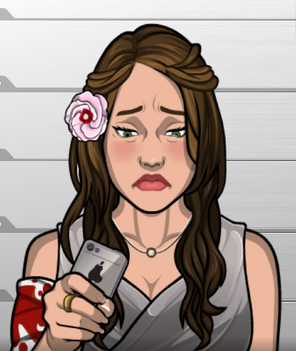 Veronica Salter aka Katherine Vojtka is the villainess of "Six Feet Down Under", case #35 of Criminal Case: Save the World, the 3rd season of the crime solving game Criminal Case (release date June 9, 2016). She was the assistant to media mogul Rufus Murlock.
Veronica first encountered the player and Carmen Martinez outside the Sydney Opera House at the time of the Australian Shines Gala, begging for help as she revealed that Rufus had been shot to death. Veronica later claimed that she and Rufus had been attacked by an unseen shooter and that she'd been shot and knocked out by the assailant.
But ultimately, sweat found on the shell casings from the crime scene proved that it was Veronica who killed Rufus, later shooting her own arm to deflect suspicions. When confronted with the evidence by the player and Carmen, Veronica initially feigned innocence before boldly confessing to murdering Rufus. When asked why by Carmen, the evil Veronica proclaimed that she'd killed Rufus for "the preservation of order and establishment of leadership", with her statement that the weak must die revealing Veronica as one of terrorist group SOMBRA's recruits and had killed Rufus on their orders. Veronica refused to say anything more about the organization as she was placed under arrest, and later argued to judge Nigel Adaku that SOMBRA wasn't a terrorism organization and that their actions were necessary for the "new world order".
Veronica was sentenced to thirty-five years in prison, and it was later revealed that she was an orphan from Slovakia named Katherine Votjka. Veronica also revealed that she faced abuse in her orphanage and that SOMBRA had (in her twisted mind) made her stronger and more powerful after she fled, explaining why she refused to break her allegiance to the organization.
"Murlock had many secrets. Some came back to haunt him. Some that required me killing him. (Carmen: "I don't understand. It all seems extreme. Why would you murder your boss? What'd he do to you?") This isn't about me. It's about the preservation of order and establishment of leadership. The weak must die." (Veronica's confession to murdering Rufus Murlock, as well as her allegiance to SOMBRA)
"Not guilty, Your Honor. SOMBRA isn't a terrorist organization, it's the new world order. And that's not murder. It's just housekeeping." (Veronica's callous justification for Rufus's murder)