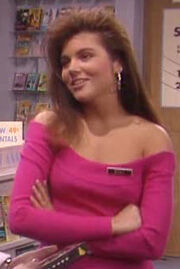 Ricki
 (Tiffani Amber Thiessen) is an antagonist from the TV series
Blossom
, appearing in the 1992 episode 
Driver's Education
.
Ricki is Joey's 18 year old boss at the video store that he works at. She likes to wear short dresses and seems to fancy Joey.
One day Joey makes a mistake at work, so she fires him. Joey tells her that he needs the job and will do anything to keep it, so Ricki tells him with a smirk that he can keep his job if he goes on a date with her. The sexy young boss then smiles and admits she loves the power trip of being in charge. Joey doesn't see a negative with getting to keep his job AND date his hot boss, so he agrees. Ricki then slaps his ass and calls him "cupcake", before leaving.
However, after talking to some of the other characters in the show, including his sister Blossom, Joey realises that he is being treated like a sex object and needs to show some self respect.
The next day at work, Ricki calls him cupcake and slaps his ass again. Joey stands up for himself and tells her she was wrong to abuse her power over him. Ricki smirks and tells him that she is going to have to fire him again, but Joey doesn't allow her the pleasure of firing him, and quits.
Notes
Tiffani Amber Thiessen played villainous bully Heather McCoy in the TV series Married...With Children, appearing in the 1990 episode "What Goes Around Comes Around".
Gallery