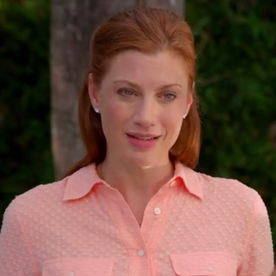 Judith (Jessica Phillips) is a minor villainess from "A Bridge Not Quite Far Enough", episode 6.03 of Royal Pains (airdate June 24, 2014). She encountered HankMed physician assistant Divya Katdare when she came to give camp physicals for her three sons: Martin, Judd, and Nelson. She also had a daughter named Larkin.
Judith was shown to be overwhelmed with her rowdy children, and she easily vented about her frustrations with Divya. Divya sympathized with Judith, as she herself had recently given birth to a baby and was suffering from separation anxiety having just recently returned to work. While at Judith's home, Divya was permitted by Judith to allow her nanny Tilda bring her daughter Sashi to to the house (as a photo Tilda sent Divya led her to believe Sashi had a rash).
But over the course of Tilda's brief stay at the house, Judith noticed how excellent she was in childcare and decided to hire her as her own nanny. Tilda took the job and unexpectedly quit her job with Divya, forcing her to take Sashi with her for a follow-up with Judith's children. When she arrived and saw Tilda with Judith's children, she realized Judith's act of betrayal and called her out on it. The callous Judith countered by saying she had made the mistake of introducing Tilda to her when she was desperate for help.
Trivia
Jessica Phillips also appeared on Unforgettable as the evil Melanie Lambert.
Quotes
"Typical new mom mistake: never introduce a great nanny to a desperate mother. Don't worry, you'll learn." (Judith after Divya realized she had stolen Tilda from her)
Gallery