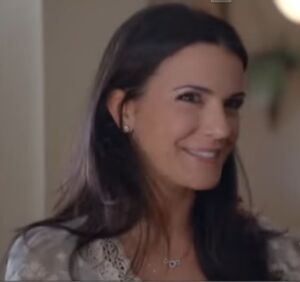 Sydney Marshall 
(Natalia Cigliuti) is the main villainess from 2013's 
The Preacher's Mistress
 (alternately titled, 
A Woman Betrayed
; airdate November 2, 2013).
Backstory
Edit
Sydney Marshall is the sister of Jake Marshall, a married man who engaged in an illicit affair with Gwen Griffith (the main protagonist). After Jake was killed in a car accident following leaving his wife, Sydney vowed revenge on Gwen, blaming her for Jake's death. Four years after her brother's death, Sydney became involved with Ed Baker, a married preacher who was looking to get out of his marriage to Kelly, Before the relationship, Sydney found Gwen and moved into her home, where she lived with her son (and Sydney's nephew), Alec--all the while posing as Gwen's best friend to keep her villainous plans (and her true identity as Jake's sister) hidden.
Sydney enlisted Ed to pose as Gwen's lover as part of their plan to eliminate Kelly and frame Gwen. Kelly suspected Ed was cheating on her, and was later given evidence by her hired PI proving her suspicions. Later on, the evil Sydney appeared at the Baker household and killed Kelly in her garage, doing so by stabbing her to death. As planned, Gwen was set up and implicated in the murder, due to the fact that she and Ed were dating. With the trial proceedings taking longer than the villains expected, Sydney changed her game plan and drugged Gwen's wine one night, while also revealing her relation to Jake and her revenge plot. After Gwen passed out, Sydney tied her up and placed her in the trunk of her car before meeting with Ed to explain that they have to kill Gwen due to the fact that she knows who Sydney really is, planning to make her death appear to be suicide. At that moment, David Wyatt, the PI hired by Kelly and who had been helping prove Gwen's innocence in her murder, held the duo at gunpoint while freeing Gwen--only to engaged in a tussle with Ed while Sydney retrieved Wyatt's gun. She shot Wyatt (non-fatally) and then went after Gwen, who killed Ed with a knife. Gwen later stabbed and wounded the vengeful villainess and held her at bay until police arrived and arrested Sydney.