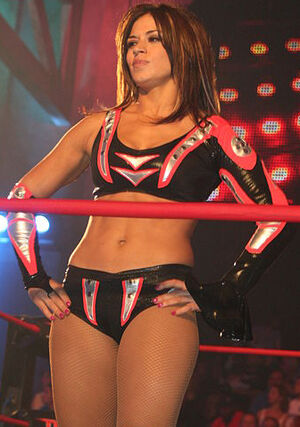 Sarita
is a former professional wrestler best known for competing in 
TNA
, where she portrayed a villainess.  Sarita is portrayed as Sarah Stock, and has also gone by the stage name Dark Angel, Natasha Graves, Sarah Griffin, and Sarah Swayze.
Sarita debuted for TNA in 2009, and within months, she and Taylor Wilde captured the Knockouts Tag Team Championship. After they lost the titles in 2010, Sarita began her heel turn by helping Taylor defeat Daffney, and then insisting to Taylor that she didn't need her in her match against the same opponent. After she lost to Daffney on Xplosion, Sarita attacked Daffney, but she was stopped by Taylor.
On July 1, Sarita turned into a villainess by attacking Taylor in a backstage segment. She shouted at Taylor constantly; proclaiming that she was tired of losing matches and that Taylor didn't care about her. Sarita cheated her way to victory over Taylor on Xplosion, and they faced each other once again in a Street Fight on Impact. During their match, the evil Sarita stated that it was finally time for her to shine and she referred to Taylor as dead weight. Sarita went on to win the match after choking Taylor out with a purse strap. After the match, Sarita laughed evilly as she celebrated her latest victory over her former tag team partner.
Sarita then started targeting Velvet Sky, beginning with a backstage attack towards her that rendered Velvet unable to team with Angelina Love in a match for the Knockouts Tag Team Championship. Sarita won a series of matches against Velvet, but lost to Velvet in a match that carried a stipulation that would have seen Velvet's career end had she lost.
In 2011, Sarita aligned with her (kayfabe) cousin, Rosita, and both of them aligned with Hernandez and Anarquia to form the anti-American faction known as Mexican America. It was during this role that Sarita won the tag titles with Rosita, and she would feud with KOs such as Tara, Brooke Tessmacher, and ODB. In her last appearance on TNA in 2012, Sarita and Rosita tried to seduce Eric Young away from his wedding to ODB, but they were unsuccessful. Sarita was released from TNA in 2013.