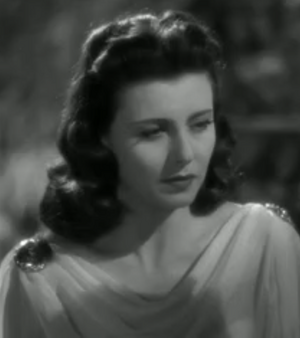 Sandra Mornay (Lenore Aubert; 1918-1993) is the villainess from Abbott and Costello Meet Frankenstein (release date June 15, 1948).
Sandra Mornay is an evil scientist working for Dracula, who is looking for a human brain to revive Frakenstein's monster. She suggests a baggage room worker named Wilbur Gray (Lou Costello), and poses as his girlfriend as part of her villainous scheme. Later in the film, Dracula (impatient over not capturing Wilbur) encounters Sandra in her room, and later bites Sandra's neck, turning her into a vampiress.
Subsequently, the evil Sandra attempted to hypnotize Wilbur with her new vampire powers, and nearly sank her fangs into Wilbur before she was interrupted by Chick (Bud Abbott) and Larry Talbot (the Wolf Man). Sandra and Dracula eventually capture Wilbur and take him to Dracula's castle, where he is prepped up for the operation. At that moment, Larry transforms into the Wolf Man and fights both of them, ending with Sandra being thrown out the window by the Wolf Man and falling to her death.
Lenore Aubert worked with Abbott and Costello a year later in Abbott and Costello Meet the Killer, Boris Karloff, playing villainous femme fatale Angela Gordon.