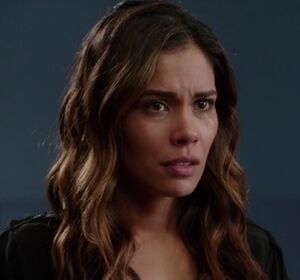 Lori Weber
(Daniella Alonso) was the main villainess from "#FindKaylaWeber," episode 4.17 of
Major Crimes
(airdate December 14, 2015). She was the husband of baseball pitcher Jim Weber, and the mother of their 5-year-old daughter, Kayla, who was reported missing.
However, it was revealed that Lori was a cocaine addict, and she used drugs openly in front of Kayla, without Jim's knowledge. Lori told Kayla to stay away from what she called, "Mama's special sugar," but her neglect led to an incident where Kayla put some of the drugs in her cereal, which resulted in a doctor pumping Kayla's stomach. Later, while Lori was drunk and asleep, Kayla swallowed her mother's drugs, which killed her.
Instead of reporting Kayla's death, the evil Lori colluded with Jim's bodyguard, Curtis, to cover up the death and make it appear that Kayla was kidnapped. The callous villainess placed her daughter's body in a plastic bag and handed her to Curtis, who then dropped off the body at the home of his and Jim's old friend, Ike Gibson.
Following the cover-up, Lori posed as a worried mother next to Jim, but she was later revealed as a drug addict as the episode progressed. After Lori collapsed, Ike and Curtis provided the rest of Lori's villainous reveal, and after this, Major Crimes went to the Weber home to arrest Lori for manslaughter. After being informed by Jim that Lori was in the backyard, Provenza and the group rushed there, only to find Lori beaten to death, assumingly by an angry Jim.
Lori Weber is similar to Holly Bennett, the villainess from Body of Proof. Both were drug-addicted mothers to young children (daughters in each case), who they endangered with their drug use. In the case of Lori, her addiction ended up killing her daughter, while Holly's daughter was in danger and saved from her mother's drug use.