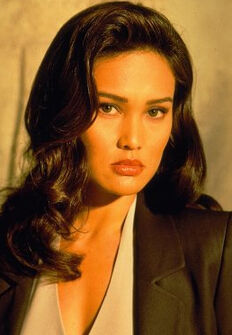 Juno Skinner
(Tia Carrere) is the secondary antagonist of the 1994 action film "True Lies". Juno Skinner was a beautiful woman. An arts and antiquities dealer, who was working for terrorist by collecting information for their organization with her feminine wiles. She also helps smuggle arms in to the U.S. by placing them into ancient artifacts. After kidnapping Harry Trasker's wife in her limo, she and Helen get into a cat fight, which she loses. She is then left in her limo as it plunges in ocean due to a collapsed bridge.
Skinner apparently has one regret about being a villainess. While she is never sorry about hurting people, she appreciates ancient art so much that she cringes when the terrorists break open a large statue and secrete weapons inside. She acts as if she doesn't care in front of Harry, but it's obvious to the audience that she does.
Tia Carrere also played evil witch Akivasha in Kull the Conqueror, and villainous scientist Joan Maxwell in Merlin: The Return.
On TV, Tia Carrere played Piper Bowman on Married...With Children, and played human trafficker Chao Lin on Blue Bloods.
Tia Carrere also appeared as a villainess in an M&M's commercial, and voiced villainess Snookie Waeawa in Aloha, Scooby Doo!