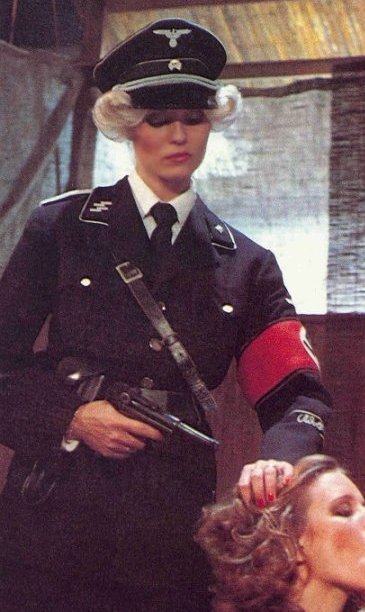 Number 1 porn star of the 1980s, Seka co-stars with John C. Holmes in PRISONER OF PARADISE (XXX).
A shipwrecked American sailor (Holmes) washes up on a remote Pacific island that hosts a Nazi outpost. Two captive American nurses are sexually used and brutally abused by the Nazi colonel and his two blonde girl lieutenants (one is Seka). The sailor tries to free the nurses but is captured himself!
An almost non-stop orgy begins as the Nazi colonel forces the well-hung sailor to have sex with the American nurses as well as with Nazi Ilsa. The sailor falls in love with the stoic Japanese girl guard and together they plot an escape. But Ilsa accidentally shoots and kills the Japanese girl which maddens the sailor to grab an MP-40 submachinegun and cut loose on the Nazis' headquarters hut. A kerosene lantern is hit, igniting a conflagration/explosion, and the three trapped Nazis scream as they are burned alive.