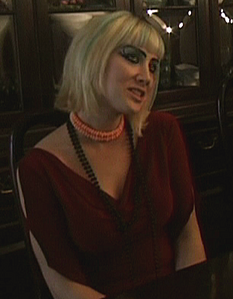 Ginger Snatch (Sarah Cole) is the right-hand minion of Mrs. Delicious in 
Troma's heavy metal horror film "Heavy Mental: A Rock-n-Roll Blood Bath".
She, along with Cock Boy, is tasked with blowing up the "Battle of the Bands" with dynamite, under the orders of her boss. She is thwarted, however, when "Monster Ace" finds her and fatally bashes her skull into the wall.