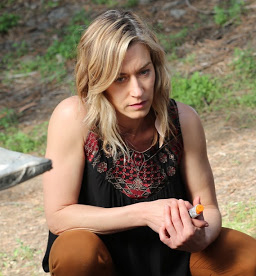 Cassie Burgess (Jacy King) was the teritary villainess of the 2016 Lifetime film Bad Twin. Cassie was the sister of therapist Dr. Jen Burgess. Cassie harbored a deep resentment for her sister, envious about Jen's successful life and believing Jen thought herself better than Cassie. One day, after phoning in an irate call to Jen's radio show, Cassie attacks her outside her studio, resulting in her being institutionalized.
Cassie's twin daughters, Olivia and Quinn, are sent to live with Jen. During a visit with the girls, Cassie tries to attack Jen again before being restrained. It's after this that Cassie begins having her daughters steal from Jen and find her will, which leads her to tell the twins to manipulate Jen into adopting them, thus allowing them to inherit Jen's money when she dies.
During a court hearing, Cassie acts as though she has gotten better before going into another rant against Jen and once more trying to attack her. Despite this, she is approved for a family day and she goes for a drive with Jen, Quinn, and Olivia. As Cassie begins to have another meltdown, she takes a box from Olivia, which she had already filled with several bees. Cassie releases the bees, which sting Jen and cause her to crash the car. Cassie drives away with her daughters, leaving Jen to die from an allergic reaction. But as they drive away, Quinn and Olivia get into a fight, causing Cassie to crash the car and die.
Jacy King later appeared in 2018's Killer Island as the evil Deena.