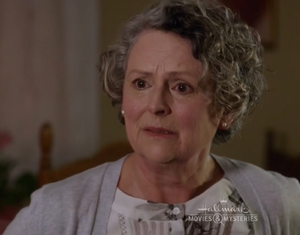 Alicia Minault
(Gabrielle Rose) is the hidden main villainess of the 2016 Hallmark film 
The Julius House: An Aurora Teagarden Mystery
, the fourth film of the 
Aurora Teagarden
 series (airdate October 16, 2016). She is the sister of the late Melba Totino and the maternal great-aunt of Melba's granddaughter,
Charity Julius
.
Following the murders of Charity's parents, T.C. and Hope (which were committed by Charity's boyfriend, Harley Dimmoch), Alicia then masterminded the murder of Melba, which Charity committed, with the result seeing them inherit the Julius family fortune. After Melba's death, the evil Alicia posed as her sister and informed police regarding the disappearance of her daughter, son-in-law, and granddaughter, with Charity hiding out with Harley. In the four years that passed, Alicia sold her house to Aurora Teagarden, all while evading questions regarding the case.
After three bodies were found in the house's attic, Alicia's machinations began to unravel. During the autopsy report, it was revealed that while two of the bodies were those of Hope and T.C. Julius, the third body wasn't Charity's, but an elderly woman's. Sally Allison's search revealed that the woman posing as Melba Totino was actually her evil sister, Alicia Minault, and while Martin Bartell (Aurora's boyfriend) tracked Harley, he spotted him with Alicia. The villainess was informed by her henchman about Aurora finding Charity, and she sent Harley back to Charity's house to kill Aurora, with the greedy mastermind then hailing a cab. After the villainous couple was subdued, Alicia's cab passed by just as Charity and Harley were being placed under arrest. She frantically ordered the driver of the cab to pass by, but Lynn Smith (who worked the case when it was originally reported) stopped said cab and placed Alicia under arrest as well. Defeated, Alicia snarled at Aurora and stated that she should have never sold the house to her.
Gabrielle Rose also appeared as hidden villainess Clara Parry in the 2014 Hallmark film Wedding Planner Mystery.